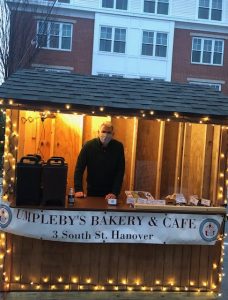 This Friday afternoon please join us after hours at Umpleby's Holiday Hut of Festive Food and Drink!   It is located just in front of the entrance to our cafe on the street facing the sidewalk.  We will be open just after 3 today and will be selling hot chocolate,  coffee, Holiday cookies and light savory fare.
Pick up something to go and stroll the beautifully lit up streets of Hanover and see the lighting of the Tree on the Dartmouth Green!
You'll see a few of these Holiday Huts around town.  They will be up for the whole holiday season and were graciously built by the Hanover Fire Department!  Thanks HFD!!
And also a big thank you to our Town Manager Julia Griffin, the Town of Hanover and everyone who worked hard to make this possible!!