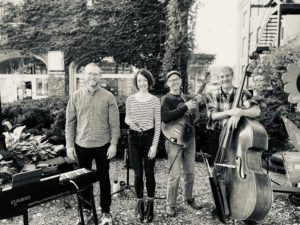 We are very happy to announce that "Sunday Table" will be joining us again this Sunday to play in the cafe from 1 to 3 pm!
Here is a brief bio of the group:
"Sunday Table" is a jazz quartet based in Hanover, NH. The band takes its name from a song that nods to our origin in Sunday afternoon jam sessions in the lobby of Dartmouth-Hitchcock Medical Center, where we work.  Comprised of Jason Pettus (keyboard and melodion; pathologist), Eric Bronstein (string bass; family practitioner), Tom Davis (guitar; medical oncologist), and Grace Crummer (vocals; clinical research coordinator), the band celebrates songs old and new from the American Songbook.  Are we medical professionals who play music, or musicians who have medical day jobs? Come listen and decide for yourself!
Hope to see you all here!